Stay Tuned for Information on the Business Star Awards, taking place June 21, 2024!
The Business Star Awards & Board Installation is the Poway Chamber's annual awards ceremony during which we recognize the brightest stars in the Chamber/business community.
The 2023 Business Star Awards, sponsored by EDCO, returned to Maderas Golf Club on Friday, June 23rd from 5:30-9:30 pm, and it was an incredibly successful event. With a cruise theme, delicious food, lively music, and mesmerizing entertainment by Floyd A Smith, it created an unforgettable experience. Attendees networked and celebrated achievements, leaving with a sense of fulfillment. The event showcased the vibrant business community in Poway, setting the stage for future accomplishments.
The Poway Chamber of Commerce would like to extend our heartfelt congratulations to all the winners and nominees who truly exemplify the essence of excellence in business. Their passion, innovation, and dedication serve as an inspiration to us all and contribute to the ongoing success and growth of Poway's business community.
We extend our deepest gratitude to our event sponsors, partners, and volunteers who played an integral role in making the Business Star Awards a remarkable occasion. Their support and commitment to fostering a thriving business environment in Poway are invaluable.
Once again, congratulations to all the winners and thank you to everyone who made the Poway Chamber of Commerce's Business Star Awards an unforgettable evening of recognition and inspiration.
SPONSORSHIPS Want to hold a sponsorship for the 2024 event? Please call our office at 858-748-0016.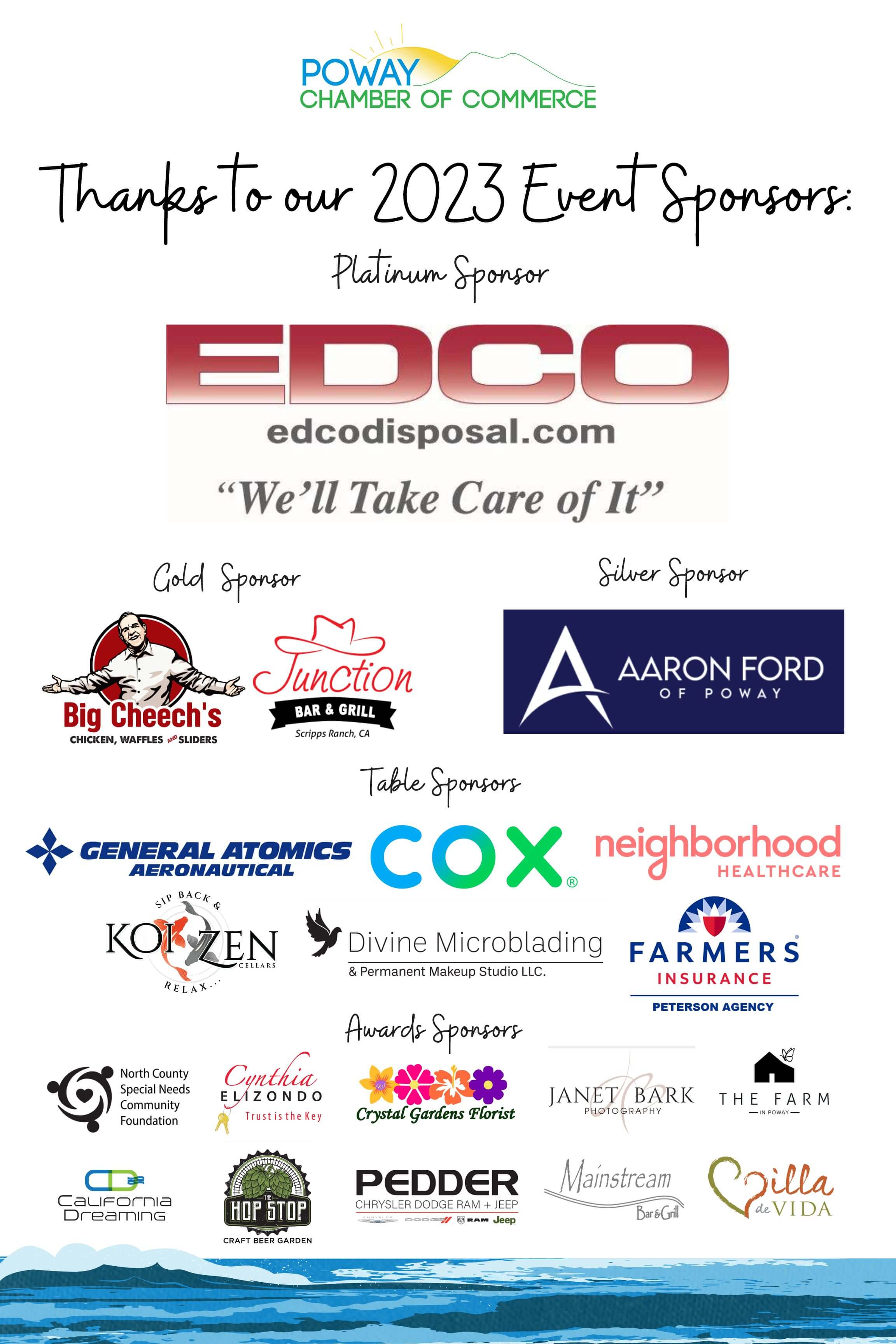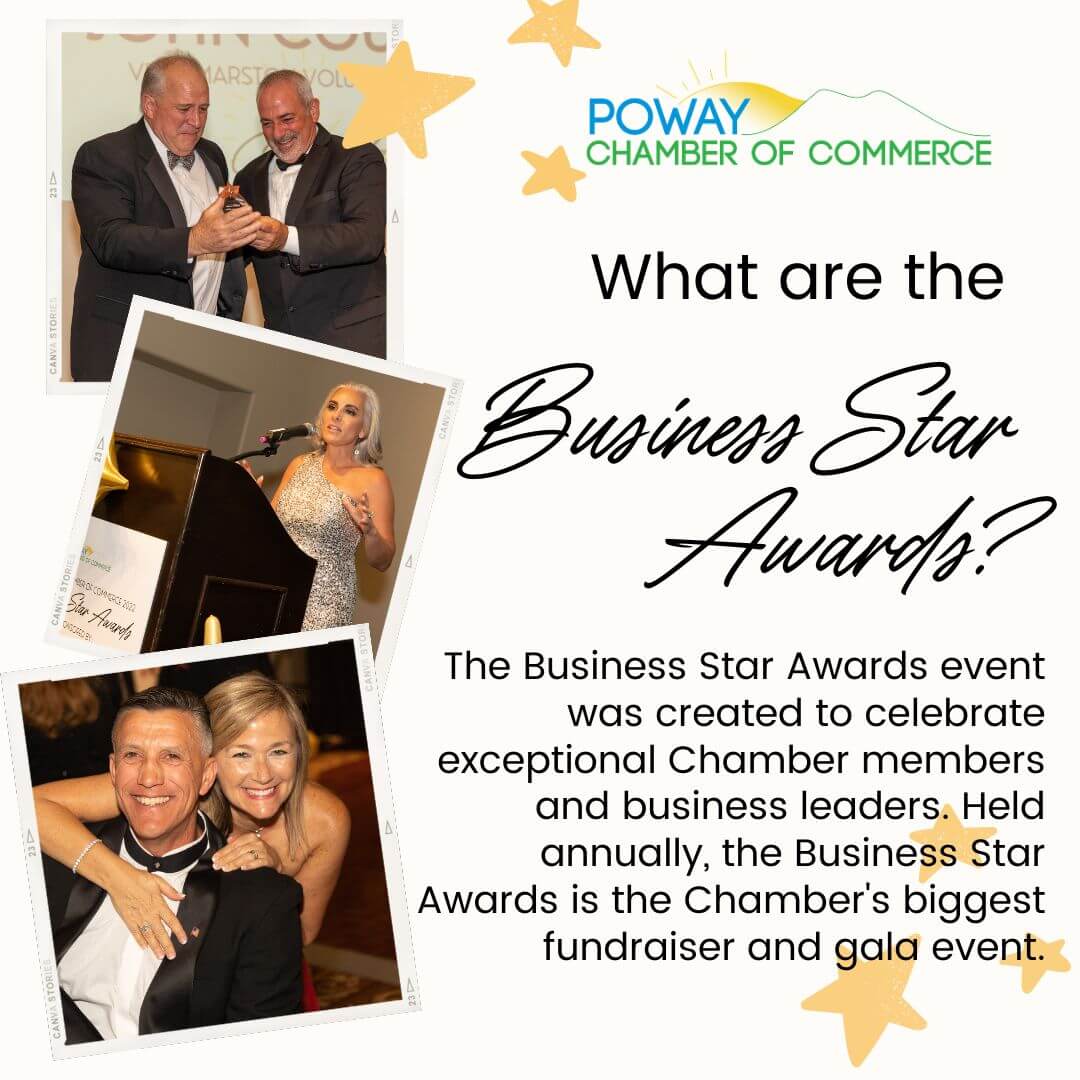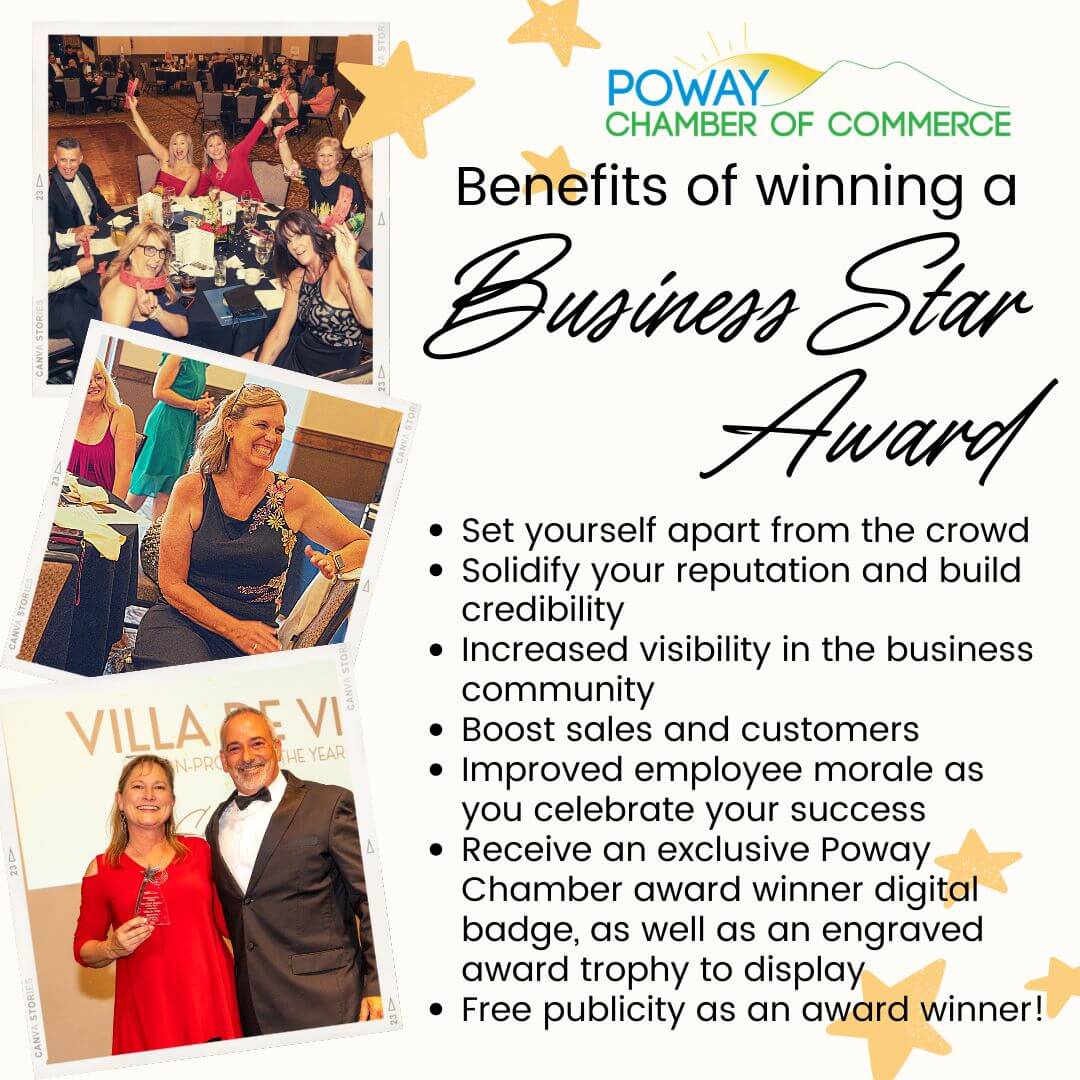 Congratulations to our 2023 Business Star Awards Winners!
| | |
| --- | --- |
|                            Award |                           2023 Winners |
| Vern Marston Volunteer of the Year Award |                         Anita Della-Rocco |
| Small Business of the Year Award |                         Crystal Gardens Florist |
| Large Business of the Year Award |                         Poway Unified School District |
| New Business of the Year Award |                         Board & Brew |
| Innovative Leader Award |                         David Guzman |
| Community Service Award |                         Tony Rubino |
| Customer Commitment Award |                         Addy's Bistro |
| Marketing Magic Award |                         Poway Living Magazine |
| Employer of the Year Award |                         Amada Senior Care |
| Non-Profit Member of the Year Award |                         Kiwanis Club of Poway |
Past Business Star Awards Winners
2022 Business Star Award Winners
Thank You for Your Service: Tony Rubino
Vern Marston Volunteer of the Year: John Couvrette
2021 Business Star Award Winners
New Business of the Year: San Diego Laser Fat Loss
Innovative Leader: Matthew Iske
Small Business of the Year: iLoveKickboxing Poway
Customer Commitment: Kaminski's BBQ
Marketing Magic: Anita Edmondson
Large Business of the Year: EDCO Disposal
Non-Profit of the Year:  Poway Valley Senior Citizens Corporation
Employer of the Year: Mainstream Bar & Grill
Thank You for Your Service: Pierra Moise
Vern Marston Volunteer of the Year: John Couvrette